Next concert to support Actions Mongolie: Dogora, 26th of June 2010, Auditorium of Lyon
News posted on 14 March 2010
Dear members, dear friends,
Actions Mongolie and his godfathers Etienne Perruchon and Jean Baptiste Maunier propose DOGORA (upload here the press kit):
370 musicians and chorists in a dream team, please have a look at the teaser :


Etienne Perruchon
, composer, piano
Jean Baptiste Maunier
, solist tenor
Le
Corou de Berra
, polyphonic chorus from Southern Alps
160 children from
Les Petits Chanteurs de Mongré
,
La Maîtrise de l'Opéra de Lyon
, and
La Maîtrise et des classes CHAM du Conservatoire de Lyon

Adults chorists from
Le Diapason de Lyon
and
L'Ensemble Vocal de Thônes
The Orchestre Symphonique des Alpes
conducted by
Martial Renard
(who conducted Dogora in the wonderful concert in the Théâtre Antique de Vienne).
Sarah Zajtmann, 13 years old, will perform the 9th concerto of Mozart as a first part.


Considering the great success of the former Dogora performances,
we advise you to book your tickets as soon as possible:
By phone au 33 4 78 95 95 95 (Auditorium) Only by credit card, from monday to friday, from 10 am to 6 pm18. On concert days, it is open till the end of the concert.

On the net: www.auditoriumlyon.com, choose « billeterie en ligne 09/10 » on the top left, (blue on black), "billets à l'unité", "valider", "concert dogora".
At the ticket office of the Auditorium 149, rue Garibaldi – 69003 Lyon. Same open time than by phone.
On France Billet (réseau Fnac, Géant, Carrefour) ou au 33 8 92 68 36 22 (0.34 €/mn), (tickets are slightly more expensive)

Price : 44 € / 35 € / 26 €. Less 3 euros for children under 16 and unemployed people. Thank you for supporting us according to your means. In each category, people reserving sooner will get the best seats.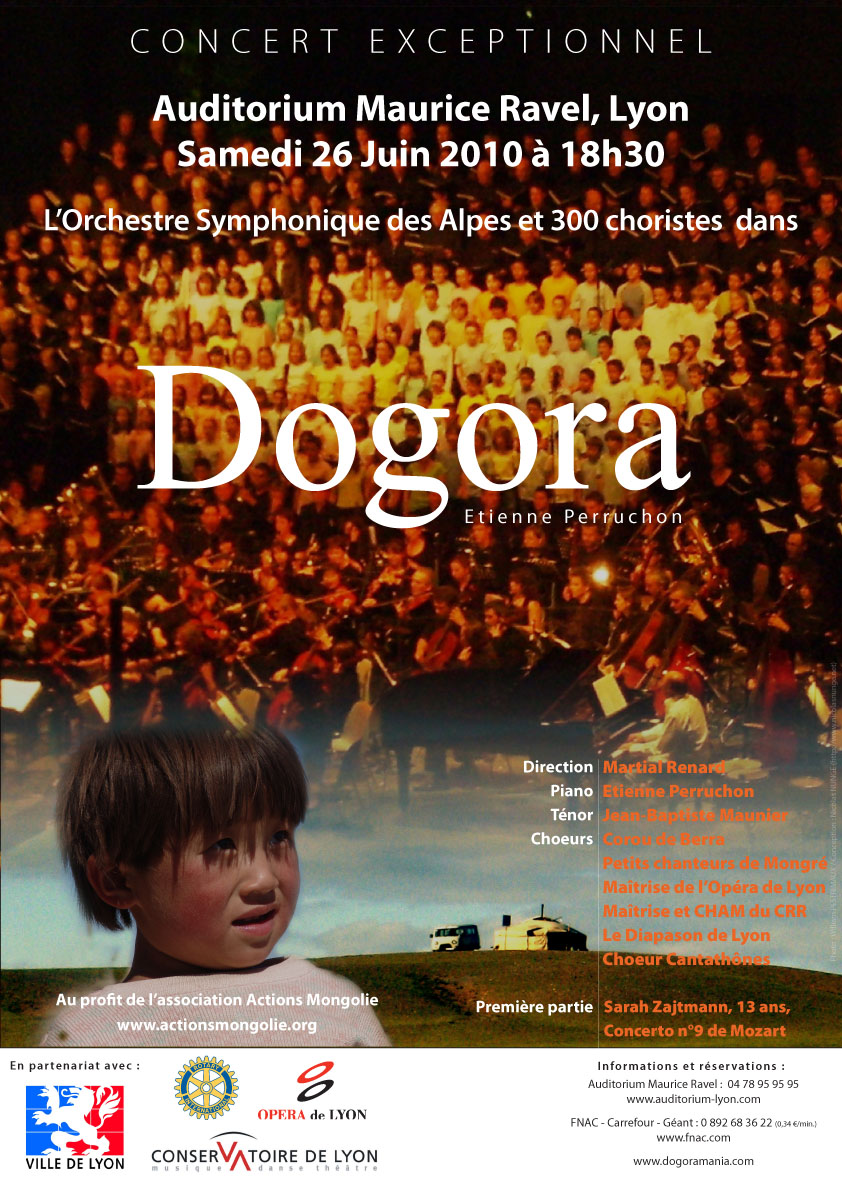 Archives...
» Actions Mongolie thanks the Caisse des Dépôts, the Département du Rhône and "Rendez-vous en terre inconnue"
-
Posted on 27 December 2009
Actions Mongolie general meeting took place on the last 17th of October. It allowed the team to introduce it's latest missions, so the moral, activities and financial reports, which you can find on our website. This meeting was also the (...)
» Actions Mongolie general meeting
-
Posted on 10 December 2009
Dear members' dear friends, As written in our former newsletter, Actions Mongolie general meeting will be held in Lyon next Saturday 17th of October, at 3 pm, at la Croix Rousse, salle de la ficelle, 65 boulevard des Canuts, 69004 Lyon (Subway (...)
» Summer missions
-
Posted on 20 October 2009
Dear members' Dear friends, Neither crisis nor stop for Actions Mongolia ! Our medical care and formation assistances will only stay useful to nomadic people if we keep on going as well as we did. We really want to maintain our presence and our (...)
» Humanitarian Mission in Ulaankhous, in the Altaï
-
Posted on 6 May 2009
Our doctor, Yves Prunier, spent two weeks in early March in Ulaankhous, in the Extreme West of Mongolia. He met the medical team we have been sponsoring since last September. Its manager, Dr Moktar, solicited us to assist them during wintertime (...)