Dear members and friends,
Our teams have returned from Mongolia. Old members as well as the most new ones have, one more time, appreciated the hospitality of Mongolian and their will to increase despite the lack of means.
In the Gobi :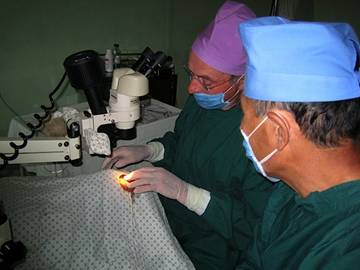 In Dalanzadgad, the little capital of the South-Gobi area, Surgeon-Ophthalmologist René Fritsch sponsored Dr Erdenbileg, in charge of the ophthalmologic service in his region (40 000 people dispatched in 175 000 km²).
In the picture on the left of your screen, two surgeons perform an operation. More pictures can be found here.
A bit more than two weeks of work in common (400 consultations and 25 operations) made us notice the will to do the best, despite an under-equipped service and a lack of medicines.
René drew a list of all the materials required to complete the equipment of the ophthalmological service of this hospital, including the needed slot-lamps, javal, refract metre, etc. We are looking for these materials that he will bring there during his next mission.
In the Altaï: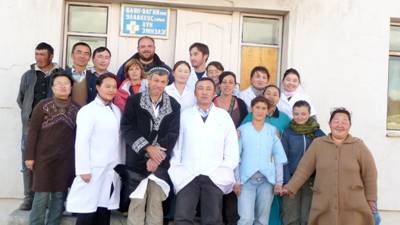 In Ulaanrhous, in the Western region of Mongolia, a multi-task team brought its help to the local hospital (picture on the right). Dr Yves Prunier, mission executive, sponsored this hospital's manager and the main doctors. Michel Foret and Christel Richard, two nurses, took up hygiene basics, diagnoses, and measures again. Regarding the ante- and post-birth care, Yvette Hébrard, midwife, had noticed several difficulties encountered by specialised persons and now 15 persons have already received training.
After a concerted group effort of analysis, interviews, consultations and training, they all came with some new ideas for the future.
There is a real lack of formed units, of preventing tools, of basics diagnosis equipment inside the steppe, in the closest of the nomads, and also of some basics medicines (bandages, etc).
Concerning the local hospital, it is devoid of a lot of useful things, notably diagnoses materials: biological, sanguine, and urinary analysis.
In Ulaan Baatar :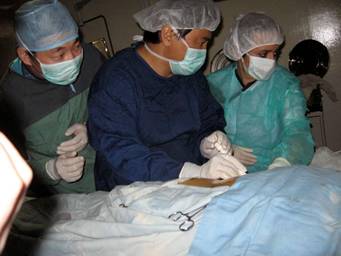 Other ambiance, more urban and more technical, for the radiologist, Agnès Rode, from the hospital de la Croix Rousse: During her first mission, she helped local cancer wards teams to improve their ability to diagnose and to treat some cancers. This was due to the visit of a Mongolian surgeon, last summer.
We can see her in this picture, while she was performing "radio frequency hepatitis": the very first in Mongolia.
During this mission, she represented France in an international congress organised in Ulaan Baatar about the hepatho-cellular carcinoma (primitive tumour of the liver favoured by the hepatitis), which totalised 40% of all cancers in Mongolia.
Here again, the welcoming and the will to progress are very motivating and the sharing will continue, because Mongolian practitioners are really fond of being trained.
If you want to help us doing these actions, you can take a subscription on this website. Thanks in advance.