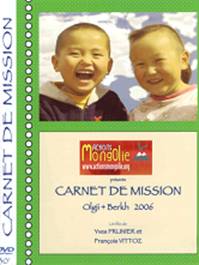 18 hours of rushes, 200 hours of editing, 30 minutes of film… After months of voluntary work of a professional quality, our friends François Vittoz and Yves Prunier are pleased to present the "carnet de mission 2006" of Actions Mongolie. This film, shot in high definition, witnesses some of our actions in 2006. From the Altaï nomads from the West to the steppe miner from the East, you will get to know these people and their culture undergoing radical transformation. It will also show you lots of wonderful landscapes, hard to avoid in Mongolia. You can order it by sending a €10 cheque + €2 for the shipping fees, to:
Françoise Avond-Glangine
89 chemin de la Grange
69380 Chasselay
FRANCE
Our last teams came back in mid-September from Mongolia, where they had intervened in more than one area, and they had answered to some solicitations we received.
In the Altaï mountains (1 600 km west of the capital), where a team of two ophthalmologists kept on working on the training of the local ophthalmologist started in summer 2004, we completed the equipment of the regional hospital of Ulgii with a auto-refractometer in a really good state, given by a French hospital. This tool enables the analysis of vision disorders. We initialised a screening in some schools of Ulgii. Our objective in 2007 is to realise a glasses factory, the first in West Mongolia. Still in Altaï, a general practitioner brought his savoir-faire to local doctors and to the nomads from the soum of Bayan Nuur.
Last April, we received a request from the soum of Bat Olzii, in the Uvukhangai (700 km west from the capital). In this area classified as a World Heritage Site, a French general practitioner brought his help to a young and dynamic, but inexperienced team with a lack of training and means. They most of all lack of logistic means: 6000 nomads from the soum are dispatched in a region as large as a little French department, where the moving (20 mph) are long and expensive. A sponsorship for this team has been decided.
In the Kenthii, 300 km east from Ulaan Baatar, this is a zone marked by an artisanal mining exploitation which has requested our help: Carbon, gold, calcium fluorite, etc. Our general practitioner found nomads converted into miners, working in very bad conditions and in a lack of sanitary means. This reconnaissance mission and this common work allowed us to decide a mid-term collaboration with a local medical team devoid of means.
Finally, 600 km south of the capital, the ophthalmologist of Dalanzadgad, "capital" of the Gobi desert; let us know they wanted our support. As the result of his mission in the Altaï, one of our ophthalmologists performed a reconnaissance mission to this city. He validated the technical competence of this man and drew a list of needed equipment that we will try to bring with our future missions.
Our four doctors worked with a few teams from the steppe, realised about a thousand consultations in general medicine, 300 consultations and about thirty surgeries in ophthalmology. These numbers result the expectation and the trust brought by the nomads, even if this is the local medical team that is important and that guides – as much as possible – our actions.
The subscriptions, the sponsors (notably, this year, the Casino group, CDC Tiers Monde, and the Conseil general du Rhône that we would like to thank), and the events organised every year with our friends allow us to finance our actions.