Dear members' dear friends,
As written in our former newsletter, Actions Mongolie general meeting will be held in Lyon next Saturday 17th of October, at 3 pm, at la Croix Rousse, salle de la ficelle, 65 boulevard des Canuts, 69004 Lyon (Subway station "Henon")
After the financial and activity reports and the votes, doctors and surgeons will introduce you our recent missions:
Chantal Novel just came back from the Gobi desert where she has spent 20 days with René Fritsch to help the ophtalmologist team of Dalanzadgad Hospital, to install the equipment baught with the help of "Fondation Caisse des depots et consignation Tiers Monde" and to train the local team how to use it: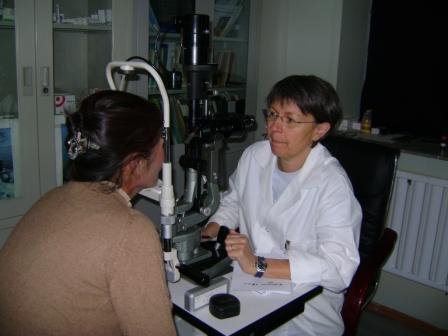 Jacques Lagoutte surgeon, came back from his first mission in Mongolia where he has visited Altaî hospital (west) and Oulaan Baatar hospitals where he made a positive evaluation of endoscopic surgery needs.
- At last, the doctor Yves Prunier just ended the tour in France of the Mongolian delegation through our french emergency services; this trip's goal was obviously to improve and reorganize the emergency services of Oulaan Baatar. This delegation was well welcomed by the french people that were in charge of the "sécurité civile" and the "Samu" of the Haute Savoie disctrict.
As you can see we have lots of activities and projects, and during this general meeting we will ask people to join and help us !
Then we will all watch the preview of a new movie "Juste des hommes" ("Only men"), 52 mn, made by the independent movie maker Dominique Gabrieli. He followed the everyday life of an Actions Mongolie team during the 2008 mission at Ulaankhous (Western Mongolia). Dominique will attend the general meeting and answer our questions.
Actions Mongolie team.
www.actionsmongolie.org/en/